2nd Model LeMat Rev. CS Navy Inspected SOLD!!!!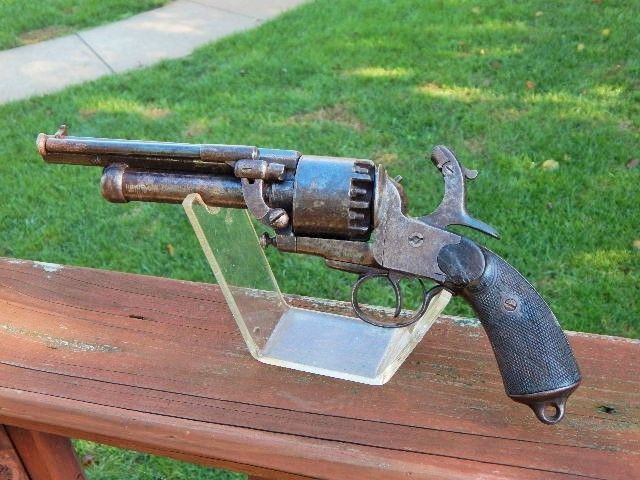 Price: Call for Pricing

An all original, 2nd Model, 10 shot, 2 barrel LeMat Grapeshot Revolver with Confederate Navy inspectors stamp. All matching serial nos. 2476 located on the side of barrel, frame & cylinder, partial SN 76 on the loading lever, plunger, screw, extractor pin & front barrel to frame bolt & grapeshot barrel. TradeMark LM with Star on barrel & M in square on the front of the cylinder which is Lt. William H. Murdaugh's stamp who was the Confederate Naval inspector for these LeMat revolvers. This 2nd Model LeMat revolver was mfrd in Paris, France & has the SYSTme LEMAT Bte S.C.D.G. PARIS barrel address. This LeMat has some orignal blueing intact & with the outside pictures I took show up nicely. Mainly the blueing is most intact on the barrel & cylinder & there are traces on the frame, triggerguard, hammer, loading lever & butt plate. The rest of the metal has a grey patina. The metal has some pitting mainly on the right side & this could be from being on ship for the Confederate Navy or laying on one side in an area with high humidity. All mechanics work fine on the revolver, action & drop pin for the shotgun barrel. The revolver is the standard .42 cal. for the 9 shot cylinder & .63 cal. for the grapeshot barrel.  Revolver has a 6 1/2" oct. barrel which is standard on the 2nd models. Revolver has the fixed lanyard ring on the buttplate. standard wood checkered wood grips which are in good used condition & in solid shape.Revolver has the original LeMat front sight & all original loading lever, plunger & extractor pin. This revolver with the M stamp for Lt William Murdaugh who was appointed for the CS Navy as inspector for the contract of 2000 LeMats & those with the M stamp were inspected & approved by Lt. Murdaugh there for are id'ed as being accepted for use by the CS Navy during the civil war.

These unique Confederate Grapeshot revolver have been written about in many books as written by Albaugh, Adams & others.  These revolvers have a great history & are some are known to have been used by Confederate Officer's such as Gen. Jeb Stuart, Gen. Beauregard, Major Wirz, Captains of CS ships & others. The serial nos that are close to the Serial no on this 2nd Model LeMat are listed as having the M, Lt. Murdaugh inspectors marks,  This 2nd Model LeMat surely went to the CS Navy & to an officer on a Confederate ship. An all original 2nd Model Lemat two barrel grapeshot revolver with CS Navy inspectors mks & some blueing intact.