Civil War Capt. 1864 Diary, 7 Battles, Historic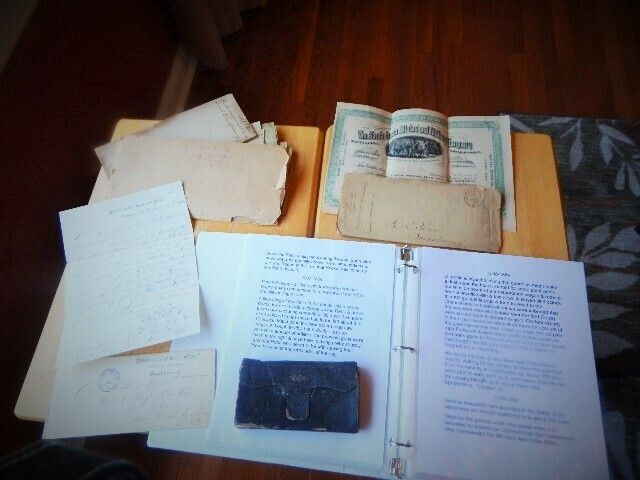 Very Historic Civil War diary of Captain M. Lewis Blair, Co. E 143rd Pa. Vol. Infantry. Diary has writing on 395+ pages & the Capt. wrote on almost every complete page. Diary starts on Jan. 1, 1864 through Dec. 31, 1864 & pages after that. The diary starts with everyday life in which he gives weather  & what ever went on that day. He gives details on picket duty throughout. Talks throughout on playing Ball & cards & tells about having regt. snowball fights. The Capt. starts in Feb giving accounts of fighting going on with the different corps. & talks about Kilpatrick's raid toward Richmond. March & April gives more & more on fighting & units coming in for upcoming fighting. Starting in May he gives account of Lincoln giving reprieve for a soldier who was to be shot & then the battle info really takes off with the battles of the Wilderness, Laurel Hill, Spotsylvania Court House, North Anna river, Cold Harbor, Petersburg & Weldon RR. He tells about the battles he was in & other units during these battles. He relates to Col. Chamberlin a few times & his unit was even attached to the 20th Maine for a few of the the battles. He tells of Chamberlin getting wounded. He talks about a Rebel guerrilla getting shot by members of a NY Cavalry unit.  Capt. Blair talks about helping  the wounded in wagons, etc. & about the wounded after different battles. He talks about the different Generals like Grant, Burnsides, Butler, Sherman, Sheridan, Hooker , Lee & tells about what was going on with their units. He tells about writing letters in the trenches & being fire upon by Rebel Snipers. He also was, at times, part of the quartermaster in his unit & tells about issuing clothing, weapons, ammo, etc. He was also in on some court maritals. Capt. Blair was, at some of the time, having to take Morphine. He was appointed officer for the picket duty soldiers with the 20th Maine. He talks about the first thanksgiving that was appointed to the troops by President Lincoln. He gives over 100 accounts of battle info in this diary.
  Capt. Blair's name is in the front of the diary when he was with his unit at Culpepper, Va. In the back he lists the names of the men who were killed & wounded in the different battles they were in. I have copied mostly all of these men's records. He also wrote on one page in the back: Mrs. John Blake  Jersey shore.  Sent to the above May 13th/64 a diary containing a 5 dollar which had been taken from his body before its burial in the Wilderness May 6th 1864. later in the diary he writes of being put in charge of 450 men. There is a ton of history in this long diary.
 The diary itself Is in good used condition He writes in both pencil & ink & is pretty legible throughout. He does, at times, writes across the written page. Leather cover good with parts of the front cover separated but still intact. In the very back is a drawing he made of a monument that was on the ground which was off of Gen. George Washington's mothers grave at Fredericksburg & during the Wilderness battle.
Capt. Blair is listed in the Gov't records, at times, as Capt E. Lewis Blain but have his records from both Civil War Research & Fold 3 & at times Blair is spelled as Blain but is the same Soldier.
 I also have some original papers of Blairs including a letter written to the Quartermaste Generals office in 1865 about his units uniforms. I also have some of his original investment papers & large papers showing him as Alderman , notary public & insurance papers mostly from 1880s & 90s.
 I also have Capt. Blair's GAR Cane which has a CS soldier head at the top & is stamped with Major M. Blair  143 Penn. Vols. G.A.R. Post 139  Cane is in good condition & Brass drag has a Buck on it & shows wear with lead attached bottom.
 A really Civil War historic diary, Cane & papers. I have transcribed the battle entries & the pages with the names of the killed & wounded.