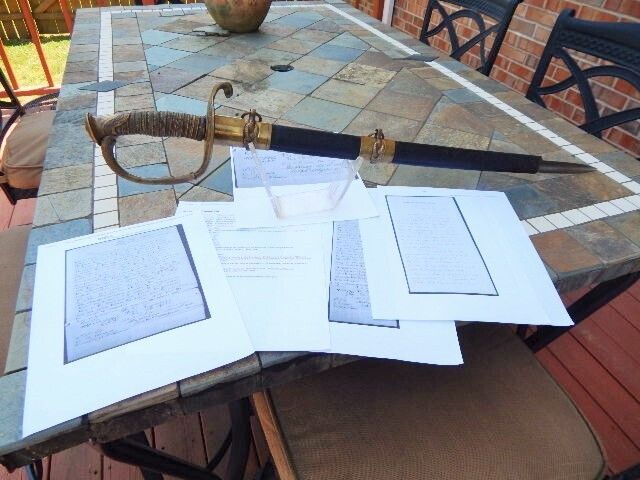 Civil War M1852 C. Roby Navy Officer's Sword, 1861, Benjamin F. Garrie, Fleet Engineer
A higher quality Civil War Navy Officer's Sword & scabbard. Sword is identified to Benjamin F. Garrie, Fleet Engineer US Navy.
Sword is 33 1/2" overall with a 28" blade. Ornate Roby etchings on blade & date of 1861 on the ricasso. C Roby & Co. W. Chelmsford, Mass. markings on other side.  Blade is in great condition & is  etched with Naval cannon with large American Flag above  & above that a large ornate USN. Navy looped line & with floral & star. On the other side of the blade is etched with anchor on ricasso & above American Eagle on tall stand with military modifs & above floral & large fowled anchor with owners name (Garrie) engraved then more floral & a Dolphin. Nice mellow patina on brass guard with dolphin on knucklebow & quill ion. Cutouts on counterguard with floral & USN in ribbon. Pommel cap has American Eagle surrounded by stars. The wood grip is covered in ray skin & shows use & all the 3 wire wrap is intact .Standard leather scabbard with brass mounts with Naval rope casting but the brass drag is missing.  Benjamin F. Garrie was Fleet engineer during the CW for the Union. I found a couple of squadron letters from Garrie about two ships & has the Admirals signature, Benjamin F. Garrie, Fleet Eng.& one even has CB Dahlgren Act. Master. These copies of the reports will come with the sword. A really higher quality M1852 Navy Officer's sword  made by C. Roby with historic identification & Civil War Navy Officer's name on the blade. Really getting hard to come by.