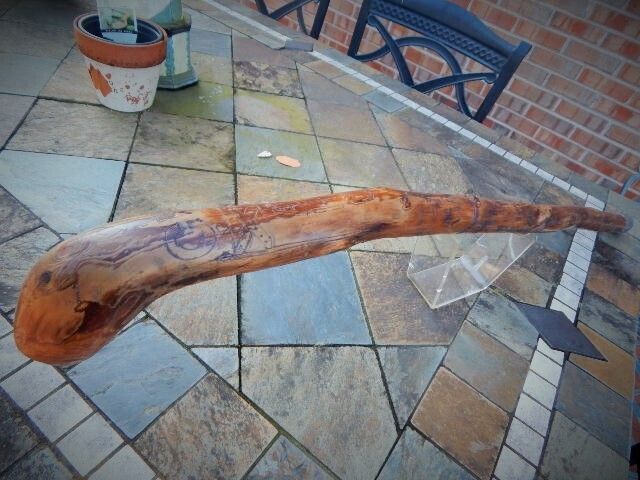 Large, CSA Tenn. Veteran's Carved Cane W/Battles, Etc.
Large Confederate Civil War Veteran's carved cane made from large tree part probably from some battlefield he was on. The cane is 35" long & has some weight with a lead or pewter bottom nailed on. The soldier's initials are on the cane ( AHC). Around the top is carved CV & below a CS Battle Flag. To the Side is (UCV), United Confederate Veteran. & on bottom is carved, Death to Abolition. Also on the bottom is carved in a block large KKK & below Pulaski & below that is carved Cannon balls & Minie balls.  Around to the top is large CSA Tenn 1861--1865 & Deo Vindice & below that is a small shield with CS inside. On the bottom of the cane is carved with a Cannon & CS on it, down from that is a CW Musket & below is a D handle Bowie. On the side is large dates of 1862, 1863, 1864 & below smaller 1865. Across from these dates are the battle listed. 62 Fort Henry, Fort Donelson, Shiloh, Memphis, Chattanooga, Murfreesboro, Hatchies Bridge, Hartsville, Jackson, Parkers Crossroads & Stones River.
63 Dover, Thompson Station, Vaught's Hill, Brentwood, Franklin, Hoovers Gap, Bloutsville, Blue Springs, Wauhatchie, Collierville, Campbells Station Chattanooga, Bean Station, Fort Sanders & Mossy Creek.
64 Dandridge, Fair Garden, Fort Pillow, Memphis, Johnsonville, Bulls Gap, Columbia, Spring Hill, Franklin, Murfreesboro & Nashville.
Below the battles is a carved tombstone with RIP CSA 1861-1865.
I did some research & by the battles listed it looks as if the soldier was in a cavalry unit probably the 9th Tenn. cavalry which during the war was under N.B. Forrest, Wheeler & Chalmers. The soldier in the 9th Tn. Cav with these initials is Ambrose H. Cooper, Private, Co.A. A really unique UCV Cane with soldier' initials & battles he was in during the Civil War.