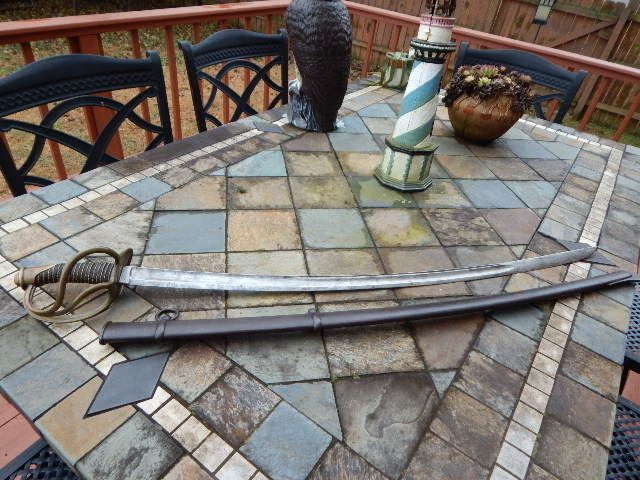 M1840 Pattern Palmetto Armory SC Cavalry sword/Scabbard
Nice condition, a real Palmetto Armory SC Heavy Cavalry Sword & scabbard. These swords were made for the defense of South Carolina & issued to South Carolina cavalry troops at the start of the Civil War. First thought the swords were manufactured by Wm. Glaze & Co. & now is now thought that he obtained the components from various sources outside SC & assembled them in Columbia, SC.  This sword is in excellent condition with nice 36" blade with nice smooth metal & even some original finish intact. Ricasso is stamped with the correct Columbia, S.C. The brass guard in excellent condition with nice mellow patina. The wood grip is covered in leather which has shrunk some & has all the original twisted brass wire wrap which is not tight in a few places because of the shrinkage of the leather. Iron scabbard is the original one for this sword & is also in excellent condition. Iron hangers, drag & throat all intact & scabbard has no dents. A really fine example of the Southern SC Palmetto
Cavalry Sabre & scabbard.