Signed,CS,CDV,Pvt David H.Hickey, J.H.Morgan Bgd w/Flag SOLD!!!!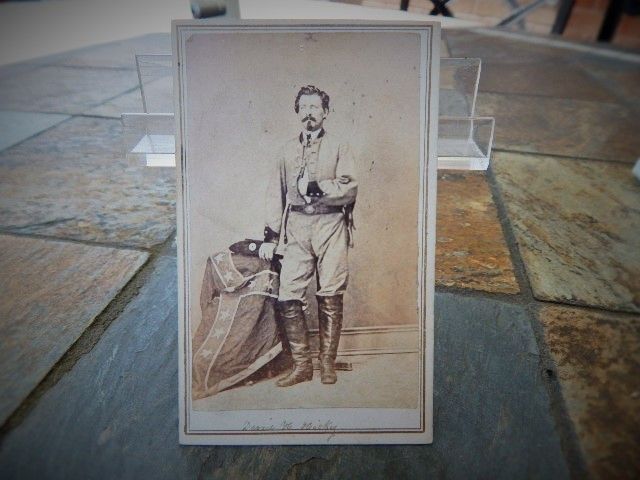 Price: Call for Pricing

Rare, CDV image of Confederate Cavalryman David H. Hickey, Private in General John H. Morgan's, Quirk's Scouts with image being signed by Pvt. Hickey. The CDV image is in great condition with clear image of Pvt. Hickey in full Confederate, Kentucky Uniform with him holding his front flipped hat & hand resting on a battle used Confederate Battle flag with holes from conflict. The back of the image has, Elrod & Bro. Cartes de Visite  Photograph Gallery  Opp. Court House, Lexington, Kentucky, with floral design around. Image back also has two civil war period US stamps with cancel marks showing it was sent. Pvt. David Hickey enlisted into Marshalls Brigade in 1861 & was at the battle of Ft. Donelson where he was captured & sent to Camp Chase as a prisoner of war & just after was transferred to Johnson's Island prison. He, with other prisoners, was sent to Vicksburg, Ms in 1862 & was exchanged. Hickey then joined the 14th Ky. Cav, Co. B which was Capt. Thomas Quirk's Co. of Morgan's Scouts of the J.H. Morgan Brigade. This unit was trained by John H. Morgan & George St.Leger Grenfell & answered to no regt. but directly to John H. Morgan himself.  This unit was in many battles with Morgan in both Kentucky & Tennessee. They were with him on the Ohio raid & along with others & J.H. Morgan, Hickey was captured at Buffington Island, Ohio in July of 1863. Hickey was sent to Camp Morton, Ind. first & then to Camp Douglas, ill.  & later to Point Lookout, Md. in 1865. Hickey somehow escaped & turned himself in at the provost Marshal Officer in Washington, D.C. & on his report states, Reported at this office/ Action Taken, Transportation fur. to Lexington, Ky.  I found on the internet a copy of Curtis R. Burke's CW Journal while in Yankee prison at Camp Douglas, Ill. &  wrote about a lady, whose husband was in the prison & died, who David Hickey & other prisoners raised money to send to her. David H. Hickey is listed on the rolls of the Quirk's Scouts which was a very special unit in the Morgan Brigade & is very rare to find. Standard CDV image with David H. Hickey  written in original brown ink by him. I would love to know what battles, the Confederate battle flag with holes that he has his hand resting on, was in. I have copies of  Hickey's records & history of Quirk's Scouts included. A super rare Kentucky, inscribed, Confederate, Morgan's raider CDV image with Battle used Confederate Battle flag shown & great Lexington, Ky. backmark.